Where: Expo Gate, Milan
When: May 2015
Following the appreciation and the success of the first exhibition and still with the support of Italy-China Foundation and with the support of the Italy-China Institute, the CIDIC and the Hunan University decided to bring extracts from the original exhibition to the city of Milan, on the occasion of the Expo week dedicated to Hunan, finding an exclusive location for the event: Expo Gate, an important symbol of Expo 2015 located in front of the Sforza Castle in the heart of the city.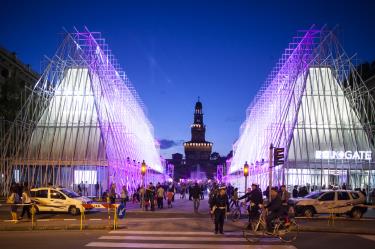 The contents of the exhibition are based on eight main themes: New Channel, Paper Cutting of Dong, Yao Hua Hua, Klin Pottery, Ya'an Home, Virtual Yuelu Academy, Jiang Home. Style and Chilhood Like No Other.
The exhibition uses different means of representation of cultural content, such as video and audio installations, handicraft and design products, installations and sculptures.
These mechanisms of representation use materials and artifacts from artisans' production and from the population living in rural areas of Hunan, breaking them down and reinterpreting them according to five key concepts that are Home, Taste, Creativity and Sharing.
The aim of the exhibition is trying to immerse the visitor in a design space created on the footprint of the Chinese minorities culture and their villages, recreating dynamics and style of domestic life of these realities in a new larger and international size which is that of Expo. Moreover, the exhibition highlights many aspects of ethnic minorities life and culture, and portrays mechanisms and social innovation trends that are starting in rural areas of China. In order to continue creating and maintaining this path of innovation, it is important to remember the past, keeping alive memories and traditions through a renewed attention and recovery of cultural products and the typical arts of these remote places.